Guide Books & Other Recommended Reading | Advance Hostel/Guesthouse Booking | Insurance | Flights & Other Recommendations
This 'resources' page is pretty much a collection of, well, resources useful to any independent traveller. These range from a section on recommended guidebooks and reading to booking a hostels/guesthouses and travel insurance.

To be frank and up front, that using some (not all) services, like buying a guidebook after using a recommended link, will result in a small (in fact they are tiny!) referral fee (at no cost to the purchaser) being received. Full details are given wherever this is applicable and are explained in full, but to summarise quickly: these fees are not a fortune, they do however just about cover the hosting and bandwidth costs of this site, which takes many hours of work each week to keep updated.

It needs to be said that this is not a commercial site or a business of any sort and that any recommendations are included because of their genuine use to travellers; opinions given are always honest. Any use of these resources is very much appreciated.
Let's be fair, you're not going to find all the answers on the web or this site, so we'd suggest a few guidebooks and reading recommendations straight from the road.


View by region and purchase (if you so wish) from Amazon in the
UK,
USA and
Canada.
Find the best reads and guides in the following regions:
Pre-trip planning, Africa, Asia, Australia, New Zealand & Pacific & Latin America.
If you need somewhere to stay and want to book in advance you'll find the net full of providers eager to take commission and fees for your money, 'Hostel World' is perhaps the most famous, and bought up it's rival Hostel Booker.

Remember these booking engines are somewhat misnamed since they list as many hotels as hostels. You can search beds in most countries, check current availability and compare rates. We prefer Hostel Booker on the left since there charge no commission. Not always the best tool, but for a first night or at a very busy time of year in developed countries (where budget accommodation is much more limited and harder to track down) it's well worth using and extremely useful to take the worry out of arriving somewhere with nothing booked.

Book a night through us. We really appreciate it.
Hostelworld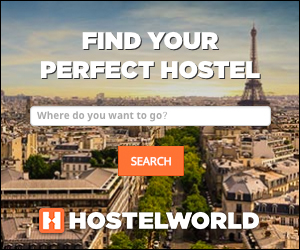 Not the only kid on the block and not the cheapest, but we (and many others) recommend World Nomads.
Buy, extend and claim online, even while travelling.
Get a quote
We also like (if you are in the UK) Globelink.
For flights it's worth checking out the following: Opodo & Expedia.
For details on how to find the best airfare prices (normally Opodo comes up trumps) click here. Canadian have reported good results at Flightnetwork and we love Kayak and Skyscanner.
For clothing in the UK try Gear Zone in the US/Canada try USoutdoor or MooseJaw, both offer cheaper than high street prices, free shipping and always a huge range hard to find elsewhere.
If in Europe, for gear such as expensive North Face, Teva or Mountain Hardware items, buying on-line from the US for delivery overseas can often work out cheaper. Sierra Trading Post is one US outlet that has reasonable overseas shipping rates - they're also quite cheap.

Jag Bags produce great silk sleeping bag liners. The business has recently changed ownership and the bags can be bought via Terre Vista Trails.
For great travel towels (the best in our opinion) and other wicking (but not smelling) items of clothing, many have recommended Discovery Trekking.
More coming soon.... (please feel free to recommend anything).
"Life is one big road with lots of signs. So when you riding through the ruts, don't complicate your mind. Flee from hate, mischief and jealousy. Don't bury your thoughts, put your vision to reality. Wake Up and Live!"