Guide Books & Other Recommended Reading | Hostel/Guesthouse Booking | Insurance | Flights & Other Recommendations
Where to stay? This is a non-commercial site, but doesn't run for free. Here you help generate a small income to pay for hosting, bandwidth, etc. by searching for and booking accommodation.
(Some information duplicated from 'on the road' section). When travelling to the likes of Australia, New Zealand, the US or almost anywhere in Western (and much of Eastern) Europe accommodation is limited and not cheap (a budget double room in a Sydney, London or New York hostel will cost at least US$65 and a dorm bed around US$25). In Europe you can find a few little cheap hotels, but for the rest and certainly in big cities, - if on a budget - you rely on hostels which get crowded in peak seasons.
This page has two search engine, Hostel World and Booking.com. Both are useful, but Hostel World (click logo below) has the edge for most budget travellers, but might not have the location you are after so you have both to compare. Nowerdays most search engines have all teh same properties.
These internet booking systems are not always the best tool, but for a first night or at a very busy time of year in developed countries (where budget accommodation is much more limited and harder to track down) it's well worth using and extremely useful to take the worry out of arriving somewhere with nothing booked. (warming, can be a little sluggish on a slow connection).
Within developed countries for example Western Europe, Australia and the USA (New Zealand & South Africa are both less of a problem), accommodation and finding it is an entirely different ball game compared to the second and third world and if on a budget you will certainly have to make use of hostels at some point.
Hostels vary dramatically from excellent (NZ and South Africa) to good, bad and just awful. They are generally at their worst during peak seasons/times when full. During these times (European/US Summer and most weekends), in any big city, it is wise to book ahead or at least check availability on-line with Hostel-World (see right).
With accommodation, as in life, you get what you pay for. When a hotel room in say Dublin center runs at €95 and a hostel bed goes for €10-20 in the same location you do have to take things with a pinch of salt: generally sharing a room with others, dealing with noise and crowded bathrooms. But please remove any ideas from your head that hostels have to be 20 bunk beds full of snorers in a small room with lights off at eleven-thirty! Hostels simply vary too much to generalise.
For the most comfortable, private and best value nights, book and stay in slightly more expensive rooms (with less beds and sometimes on-suite). These normally are the least popular and have the lowest occupancies. In addition, try to time any visit to a big city, particularly within Western Europe during mid-week when hostels are half full. Also if it's near the top of the guide book list it's going to be packed in many cases. Look out for newly opened hostels and read reviews from others who have stayed in these places. There are many sites with hostel reviews, such as Hostel World (just do a search and hostels are listed with ratings).
Booking hostels and budget accommodation in advance. As outlined, in many cases it not only makes sense to book in advance for a good room, but is total necessarily for peace of mind. If you do a search on Google for say 'cheap accommodation in' 'Paris', 'New York' or 'Sydney' you will find thousands of results mostly from resellers working on commission. Hostel World and Hostel Bookers being the market leaders (they are now the same company).
You can view all available budget accommodation in a destination, view available dates and see customer ratings. Booking is simple on-line and your room is guaranteed. We recommended Hostel World. The rates quoted are the same as walk-in rates.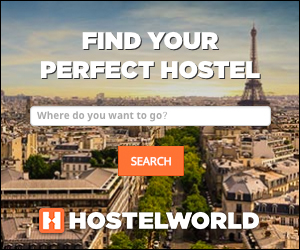 You can make a booking through either site or, if you have found this site a useful resource and want to support its continuation by in helping with hosting/bandwidth charges, please book through this site on this page.
Any repeat use is appreciated (bookmark this page for future use). To be up front, 2% of your accommodation charge will be gained in a commission rather than going to the hostel - you incur no extra charge, and it's a big thank you for using the site.
"There was a girl knocking on my hotel room door all night! Finally, I let her out."